interview
Rafa Nadal: I Have Made Sacrifices
5/03/2011
Rafaholics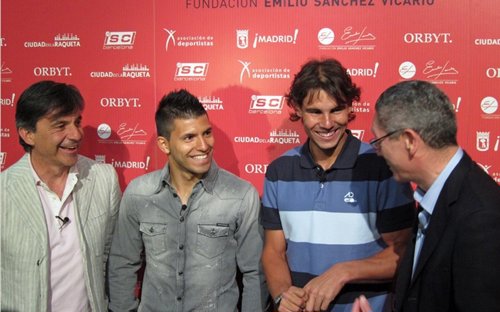 Nadal: "You have to think about doing something better every day"
Spanish tennis world number one, Rafael Nadal, has told his secrets and experience to become an "Early Achiever", under Emilio Sanchez Vicario Forum which was held on Monday under the title, where he said that fundamental is
"to think of something to better everyday. "
Nadal, who was invited to the Forum as one of the best examples of young winners, recognized an important role in "luck" but also stated that requiring staff is essential.
"We probably are in a privileged position. The people live difficult situations but in the end the most important thing is to give yourself the opportunity to continue to believe that things will get better. Getting up every day to the best, "
he said.

"I've had bad times, there are doubts, you live with them. We must consider every day to do something better. The athlete is under pressure to stay there, we have a vision of 8, 10 or 15 years of career, from there it is important to enjoy what you do, the experience, "
he said.
The Mallorcan tennis player said that, despite having a busy life being a well-known image,
"it is worth to 100%. " "to Suffer I don't suffer and it is worth 100%. I have made ​​sacrifices but I've always liked the sport, compete. In my experience I maintain a private life without problems. I live in Manacor and people are used to seeing me and respects me I do not hide, "
he said.
With regard to the Mutual Madrid Open, forth Masters 1000 of the season which takes place this week in the Spanish capital, Nadal returned to lament his bad luck in the draw.
"I would not have done so but this is reality and you can win every game either. The challenges are what they are and you must be prepared to win all or nearly all, "
he said.
"I arrived a week early to train well. I am prepared to achieve the objectives. Hopefully all end up facing my side of the draw and reach the final, " said the Spaniard will debut at the Magic Box to the Greek Marcos Baghdatis.
Video of the event: