davis cup
DavisCup: ITF rejects Spain challenge
4/24/2011
Rafaholics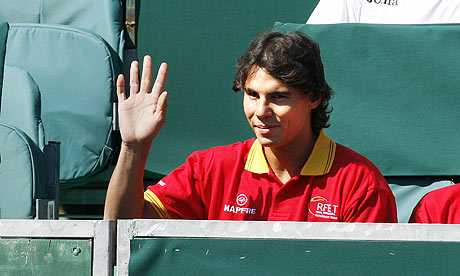 ITF rejects Spain challenge to U.S. court choice
MADRID | Thu Apr 21, 2011 8:34am EDT
MADRID (Reuters) - The International Tennis Federation (ITF) has rejected Spain's appeal over the legality of the court surface chosen by the United States for July's Davis Cup World Group quarter-final.
The Spanish tennis federation (RFET) had argued that the surface, known as Indoor Hard Premiere, was not on a list approved by the ITF, the sport's world governing body which runs the competition.
The ITF said in a statement on Thursday its five-strong Davis Cup committee had unanimously agreed that the surface complied with the regulations.
"The committee determined that the court surface chosen by the Americans is of the type 'acrylic', which is used in over 30 tour events and two grand slam tournaments," the statement said.
The regulations did not "specify or imply a requirement for specific brands," it added.
The July 8-10 tie between favorites Spain, champions in 2008 and 2009, and record 32-times winners United States is being staged at the Frank Erwin Center on the University of Texas campus in Austin.
The surface on which the USTA plans to stage the match is the same as the one used at February's SAP Open in San Jose, where Spanish Davis Cup player Fernando Verdasco lost in the final to Canada's Milos Raonic.
The ITF statement added that once the match court was laid and available for play it would conduct tests to ensure that the pace of the court was neither too fast nor too slow.
(Reporting by Iain Rogers in Madrid, editing by Alan Baldwin; To query or comment on this story email
sportsfeedback@thomsonreuters.com
)
Related Articles:
Spain appeals to Davis Cup over US surface choice
Spain feeling the pressure